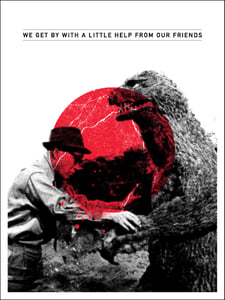 $

30.00
18x24". Screen print, and hand painted on archival paper. Each one is unique. Signed and numbered by the artist. Edition of 100. Poster ships Monday April 11, 2011.
"As a designer living in southern California, I have been lucky enough to grow a global network of friends, some of which have been deeply affected by the events in Japan. As friends, its vital we can depend on each other in times of good and bad. My friends are my family and I thank you for not only helping them out, but their entire extended family of Japan. Your deeds will be rewarded with karmic radness..."
-Brent Sandor is and artist and desginer currently living in Encinitas, Ca.
All proceeds go to Japanese Red Cross Society.